Robina Roofing Re-Roof

Re-Roofing
Robina Roofing Services on the Gold Coast can fulfill all your re roofing needs with a minimum of inconvenience and cost to you. Robina Roofing Services will remove your existing roof whether it be asbestos, concrete tile, decramastic tile or just replacing old galvanized iron. This service will greatly improve the value and the aesthetic look of your Gold Coast home. We hold all relevant licencing and insurances to ensure your re roof is done professionally and to Australian Standards.
It all begins with a phone call: 5557 1566

Once you have called our team here at Robina Roofing Services we will send one of our qualified roof technicians to your property for an inspection and to measure for a new Colorbond roof! This will give us an opportunity to meet you and answer any questions you might have in person. Our roof technician will have a small booklet for you including Colorbond colour charts and additional information you may want.

Following this our roof technician hands your precise roof measurement and details to our estimating team where they put together the best price with NO hidden extras. This is then sent to you via Email/Fax or mail including photos of your roof.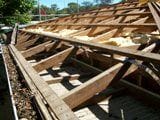 Once we have received your signed acceptance and colour chart selection we will call you to organise an install date. Then we are ready to order your new Colorbond or Zincalume roof! The existing roof is then removed in manageable sections to insure that your home is left weatherproof and secure for the duration of the work. As added protection for your our customer, we provide QBSA Home Warranty Insurance. A copy is sent to you by QBSA.
Now we are ready to install your new Colorbond roof! The roof sheeting we use is manufactured from COLORBOND® steel which is available in a range of 20 attractive colours and shapes. It is durable and strong as well being thermally efficient. We also install Roof Insulation to meet Australian Standards which will greatly add to your thermal effeciency. Whirly birds are option you may choose to have installed at the same time.

• A deterrent against intruders
• Excellent resistance to impact from hail


• Light weight compared to roof tiles -reduced load on supporting structures
• Flexibility of design allows for both traditional straight roof sheeting as well as innovative curved roofing designs
• Easy maintenance
• A Range of attractive Colorbond colours
• Corrosion resistant
• Resists cracking, chipping and peeling
• Weather tight and secure when installed to manufacturer's specifications

With the installation of the roof comes ridge capping valleys and any flashings that might be required. This is all completed and made water tight before our team leave your property. In most cases your old roof is off in the morning and your new one is on in the afternoon!