Robina Roofing Services
New Roofing
Robina Roofing Services prides itself on providing a high quality, service for all your domestic/residential roofing needs with our highly trained and skilled installation technicians. Robina Roofing Services provides a finished product that is second to none in the market place.
Re Roofing
Please refer to Re-Roofing tab
Fascia and Gutter/Re Guttering
Using the latest products supplied by Colorbond, Robina Roofing Services can improve the look of your home but also the efficency of water collection with our wide range of gutter types and colours. We are able to match existing products on renovations or extensions being added to your home.
Downpipes
Whether your need for downpipes is Colorbond/Zincalume, Square or Round, UV PVC Round Downpipes or Stainless Steel Round Downpipes, Robina Roofing Services can cater to each individual requirements.
Insulation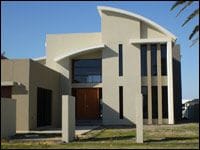 In the climate we live in, it is imperative that insulation is used in any dwelling that is habitable. The "R" value of both 50mm and 75mm Anticon Blanket is crucial to expel hot air and retain cool air. This will make your dwelling cool in summer and warm in winter. Insulation also has an acoustic value lessening the sounds/noise of rain on your roof.
Wall Cladding
With the latest architectural designs, Colorbond is now being used widely as a finish that enhances the appearances and outside perimeters of your home. Robina Roofing Services highly trained technicians can efficiently supply and install your Colorbond cladding.
Sky Lights
If you have an area I your home that you feel constantly needs a light on, then a Sky Light may be the answer for you. They are available in a wide variety of sizes, and Colorbond colours with reflective aluminum tubing allowing the light to freely flow into your home. These are easily installed either during, or after construction/renovation.
Whirly Birds
To remove the heat from your ceiling, Whirly Birds/Turbo Ventilators also come in a wide range of Colourbond colours and Zincalume for all roof types. By removing the hot air from your ceiling space, your insulation and air conditioners will work more efficiently.
Rainwater Tanks
Robina Roofing Services use and recommend Blue Frog Water Tanks. Click here for more information